Top posting users this month
June 2019
| Mon | Tue | Wed | Thu | Fri | Sat | Sun |
| --- | --- | --- | --- | --- | --- | --- |
| | | | | | 1 | 2 |
| 3 | 4 | 5 | 6 | 7 | 8 | 9 |
| 10 | 11 | 12 | 13 | 14 | 15 | 16 |
| 17 | 18 | 19 | 20 | 21 | 22 | 23 |
| 24 | 25 | 26 | 27 | 28 | 29 | 30 |
Calendar


Buster the Husky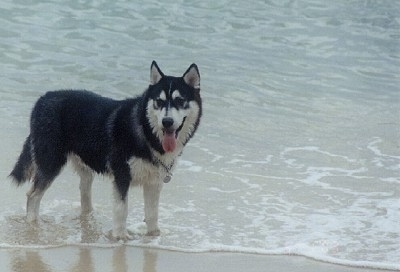 Nickname: Boy
Age: 3 years
Gender: Male
Species: Siberian husky
Rank Leader
Physical Description: Buster is a very muscular dog, perfect for being the leading sled dog. His legs are shorter than average, but don't let that fool you. He can still run very fast for a long amount of time. He is always the dog that gets tired last, and his masters love him. He looks like the common husky, and his eyes are a hazel brown.
Personality Buster is very friendly and compassionate to his fellow sled dogs. The only reason for this is because he doesn't want to be challenged a whole lot, and he wants to stay on his masters' good side by limiting the amount of fights he gets into. When he is kind, he's your friend. He'll always look out for you and will never be selfish towards you. If you don't challenge him for a certain amount of time, he will be your friend. He loves swimming in the water, even though he is at risk of freezing to death.
History: Buster was born in Alaska on a sled team. These dogs were very vicious to him, and he didn't like it one bit. One day he attacked the leader, and his old master didn't accept that. He beat him until he was nearly dead, and they left him out in the middle of the wilderness. He was found by his current masters, and they cared for him and healed him until her was worthy of getting on their team. He slowly made his way up to the leading sled dog.
Relationships:
None for now
_________________
Still depressed about the loss of TSP?
[You must be registered and logged in to see this link.]
We can't wait to see you again!


Similar topics
---
Permissions in this forum:
You
cannot
reply to topics in this forum